Andy Bartlett

Information
Full Name

Andy Barlett

Gender

Male

Date of Birth

c.1996 (age 18)

Resides in

Califorina

Occupation

Student

Eye Color

brown

Hair Color

brown

Romances

Stevie Baskara (crush)
Kacey Simon (possible crush)
Molly Garfunkel (former crush)

Friends
Enemies
School
Production
First Episode
Andy Bartlett is a recurring character on How to Rock. He attends Brewster High School with the rest of the characters. He has a crush on Stevie and Kacey and often tries to flirt with them, though they do not reciprocate his feelings. Many students, including the Perfs, at Brewster are disgusted by him because of his unpopularity and weirdness. Gravity 5 don't see him as a geek and he is also their friend.
Andy is portrayed by
Jacob Houston
.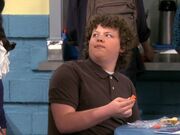 Background
Season 1 Appearances
He thinks Kacey likes him. He blows kisses to her after her note is unintentionally passed to him.
He helps Kacey win the bet.
He wants Stevie to marry him because of a large burp she did.
He does not appear in this episode other than the fact that he was not invited to Justin Cole's party.
After observing how Zander won over Dana's mind about sculpting his art from "deep within his soul", Andy imitates the same thing to Dana. Unlike Zander, he doesn't admit to giving up pizza.
Andy tries to hit on Zander's statue, which is Kacey, until he is caught by Mr. March.
Molly told Andy she would kiss him if he got stuck at the top of the flag pole.
Zander, Stevie, Nelson, and Kevin hold an audition to replace Kacey as the lead singer, and Andy auditions.
Stevie smiles at Andy during his audition, but makes it clear she does not want him to join by shaking her head at the other members.
Andy wants to ask Stevie to the dance.
Andy tells Stevie he wants to be a fart doctor.
Trivia
His character appears several times for comedic purposes and is said to be shown in upcoming episodes.
According to TV Tango, he is supposed to appear in 11 episodes, although it has not been confirmed
Gallery
To view the Andy Bartlett gallery, click here.
Community content is available under
CC-BY-SA
unless otherwise noted.