Justin Cole

Information
Full Name

Justin Cole

Gender

Male

Occupation

Student

Hair Color

Blonde

Romances
Friends
School
Production
First Episode
Last Episode
Portrayed By
Justin Cole is the richest and most popular student that goes to Brewster High School. He made his only appearance and had a party in "How to Rock a Guest List." He was also shown to have a crush on Stevie.
Friends
He is shown giving her the first invitation to his party, though this may just be because she is a Perf.
He is shown giving her the second invitation to his party, but he might have only done that because she is a perf.
Justin invites Kacey to his party even though she wasn't with the perfs anymore.
Relationships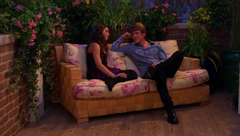 Main article: Stustin
He is shown to have a crush on Stevie.
He convinced her to come to the party.
He nervously asked if her brothers beat up guys who liked her.
They leg wrestled together.
Stevie is shown to like him back and is very interested.
Kacey was always invited to his parties.
He begged Kacey to come when she turned down his invitation. This had offended him.
He tried to kick Kacey out of the party, but her friends wouldn't let him.
Trivia
He is shown to have a crush on Stevie.
He's rich, popular and throws huge, great parties (although he has weird and wacky ways when it comes to inviting people to come to them).
In 2012 he rode on a unicorn, giving out invitations.
In 2011 he rode on an ostrich, got pigs wrapped in blankets to serve mini hotdogs (pigs-in-a-blankets) at his party, and got Will.I.Am. to sing three songs.)
Community content is available under
CC-BY-SA
unless otherwise noted.