Mr. March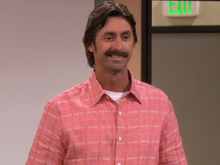 Information
Production
Mr. March is a history teacher at Brewster High School. He's arguably the coolest teacher you'll ever come across. He is a recurring character in the show. He tries to appeal to his students by imitating them. He appears to be in his late thirties. He is portrayed by Kirk Fox.
Season 1 Appearances
He hosted the art show.
He announced Andy as the winner of the art show, even though he dislikes him.
He was teaching the class as a zombie.
He was teaching a history class and was interrupted by Nelson.
Later into the lesson, he was disrupted by Kevin, causing him to notice Kacey on her cell phone.
He confiscates Kacey's phone and ends up winning tickets to Cee Lo Green's concert by correctly answering a question to the person on the phone.
At the Cee Lo Green concert, he has seats next to Molly and Grace.
He brings a lady friend to the concert and she kisses his cheek multiple times, which disgusted Molly and Grace.
In Kevin's fantasy, Mr. March is his personal butler.
He is the MC at the Battle of the Bands.
He announced the dance and thanked Gravity 5 for running the fundraiser.
Mr March made Gravity 5 and The Perfs work together to submit their video tape audition.
He announced that the class was going to go camping for their class trip.
He separated everyone into two groups the woodchucks and pinecones.
He allowed everyone to earn A's due to saving Zander.
Mr March let Kacey run his booth.
Mr March was proud of Kacey even though she ruined his tennis ball.
Mr. March trusted Kacey to watch his goldfish awhile back.
Mr. March has given may oppurtunities to Kacey.
Community content is available under
CC-BY-SA
unless otherwise noted.