Only You Can Be You is the opening theme song for the Nickelodeon show, How to Rock. It is performed by Cymphonique Miller and the rest of the How to Rock Cast. It wasn't shown in "How to Rock Braces and Glasses" is because they performed it. This song was written by Toby Gad, Jared Cotter, P.R. Miller, and Cymphonique Miller.The song was also performed in the episode How to Rock Camping as an acoustic version. Also in "How to Rock Braces and Glasses", Kacey (a.k.a Miller) sings it but you can also hear that Stevie (a.k.a Antariksa) is singing the back up lyrics when the perform.
Lyrics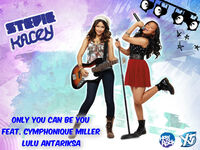 Kacey:
Hey you, what's the matter?
Lately you've been looking down
Is that someone in the mirror,
The reason you don't come around?
(Stevie: That's crazy), this isn't the you I know
(Stevie: Feeling un-pretty), putting on a show 
Kacey (and Stevie in episode version):
You don't wanna be a wannabe,
So who you really gonna be?
Only you can be you
Only I can be me
You always wanna be what you're not
Can't you be happy with what you've got?
You're perfect the way you are
With your insecurities, flaws, and scars
Life's too short to worry
Don't you know it's true
Only you can be you (Stevie:You can be you)
Only I can be me (Stevie:I can be me)
Only you can be you (Stevie:You can be you)
Only I can be me (Stevie:I can be me)
You think you ain't got swagger
Gotta be cooler than you are
I think whatever
Let 'em know that you're a star
Be crazy, be who you wanna be
No maybe's, you're a celebrity
You don't wanna be a wannabe
Show them who you're gonna be 
Only you can be you
Only I can be me
You always wanna be what you're not
Can't you be happy with what you've got?
You're perfect the way you are
With your insecurities, flaws, and scars
Life's too short to worry
Don't you know it's true
Only you can be you (Stevie:You can be you)
Only I can be me (Stevie:I can be me)
Only you can be you (Stevie:You can be you)
Only I can be me (Stevie:I can be me) 
Kacey ( and stevie in episodio version)
If you love who you are, put your hands up
You feelin' good 'bout yourself then stand up
You independent and you're strong, throw your hands up
You feelin' fabulous? Put your hands up
You can be you, I can be me
You a star if you ain't on TV
You tall, you short, you different, you cute
You light, you dark, you beautiful, you, youOnly you can be you 
Kacey (and Stevie in episodio version)
Only I can be me
You always wanna be what you're not
Can't you be happy with what you've got?
You're perfect the way you are
With your insecurities, flaws, and scars
Life's too short to worry
Don't you know it's true
Only you can be you (Stevie:You can be you)
Only I can be me (Stevie:I can be me)
Only you can be you (Stevie:You can be you)
Only I can be me (Stevie:I can be me) 
Acoustic Version 
Kacey: 
Only you can be you (Zander:You can be you)
Only I can be me (Zander:I can be me)
Only you can be you (Zander:You can be you)
Only I can be me (Zander:I can be me) 

Kacey:
You think you ain't got swagger
Gotta be cooler than you are
I think whatever (Grace:Whatever)
Let 'em know that you're a star (Kevin:Know that you're star) 

Zander:
Be crazy,
Kacey:
be who you wanna be 

Zander:
No maybe's
Kacey:
you're a celebrity (Molly:Celebrity)
Show them who you're gonna be 
Kacey With Gravity 5 And The Perfs:
Only you can be you
Only I can be me
You always wanna be what you're not
Can't you be happy with what you've got?
You're perfect the way you are
With your insecurities, flaws, and scars
Life's too short to worry
Don't you know it's true
Only you can be you (You can be you)
Only I can be me (I can be me)
Only you can be you (You can be you)
Only I can be me (I can be me) 
Trivia